Doors and Drawers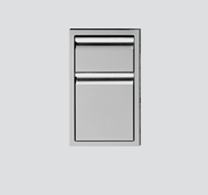 Whether it's an indoor kitchen or an outdoor kitchen, every kitchen needs an adequate amount of storage. With so many different pots, pans and dishes used to make a meal, and all of the dishes and utensils needed to eat a meal, it's always nice to have everything you need handy. The last thing anyone wants to do is to have to continuously run back and forth to the kitchen inside their home to grab something they need for their outdoor kitchen, and with the sleek, stylish outdoor kitchen drawers and doors available from Twin Eagles, you can enjoy ultimate storage solution while enhancing the aesthetics of your outdoor space.
At Golden West Outdoor Living, we're proud to offer a wide variety of access doors and drawers for your outdoor kitchen. We offer everything from utensil storage drawers and trash drawers to access doors and trash chutes. Each and every option from Twin Eagles features a stunning, modern finish with geometrical detailing and is engineered for long-lasting durability. You'll also find that every Twin Eagles product is made to slide effortlessly in place.
Need help finding the right drawers and doors for your outdoor kitchen? The professionals at Golden West Outdoor Living are ready to help. Check out our options online today, and feel free to contact us or stop by our showroom to take a more in-depth look at our outdoor kitchen drawers and doors.