FX219s
Relax, get fit and save more space with the FX219s Swim Spa!
This swim spa comes equipped with a full-featured, five-seat hot tub.
The FX219s Swim Spa will allow you to enjoy plenty of space for a great workout without taking up a lot of room in your home or yard.
Equipped with full-body massage columns, this swim spa can help you ease achy, sore muscles.
With the FX219s Swim Spa, you can get in great shape and recover from even the most intense workouts in the same place! This swimming spa has a long list of features that make it a must for any home, including full-body massage columns, adjustable, high-powered fitness jets, 49 hydrotherapy jets and much, much more. Best of all, this swim spa comes with a built-in hot tub with five, ultra-comfortable seats. Whether you're working out or entertaining friends and family, there's no better option than the FX219s Swim Spa!
Don't put yourself through the stressful process of finding a contractor to install your new swim spa. Instead, work with Golden West Outdoor Living to enjoy all of the services you need. We can help you with delivery, installation and so much more. What are you waiting for? Contact us or stop by our showroom in Edmonton today to get started.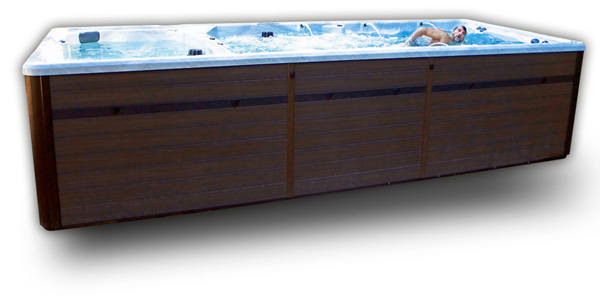 ---
Dimensions:
227" x 92" x 56", 118" fitness area
Design Features:
Fitness zone features side entry steps with sculpted massage seat, open barrier-free fitness area, two RX6™ standing massage columns. Hot tub zone is a full featured 5 deep seat spa. Separate zones with filtration, heating, therapy and fitness action controls.
Therapy Jets:
49 hydrotherapy stainless Reflections Jets™ . Full body massage columns. Shoulder, upper and lower back, and hips in 6 seats.
Synergy Pro™ Jets:
6 high-powered adjustable fitness jets
Dual Zone Power:
Fitness Zone: 16HP, 3 pumps, 5.5KW heater, 50 amps
Hot Tub Zone:
6HP, 2 pumps, 5.5KW heater, 50 amps
Capacity:
2525 gallons
Weight (lbs.):
2475 dry/22675 wet
Finish:
Silver Marble acrylic shell, Graphite or Espresso M Series™ cabinet
Warranty:
35 structure/15 finish/5 parts/3 labor