FX219
Enjoy all-in-one fitness and relaxation with the incredible FX219 Swim Spa!
Adjust the resistance to meet your needs and your goals with 6 high-powered Synergy Pro™ jets.
Once your workout is complete, enjoy a full-body hydrotherapy massage with 64 Reflections™ jets.
With three beautiful finishes to choose from, this swim spa will work perfectly with the style of your home.
When you want a swimming spa that works just as well for working out as it does for easing sore muscles and stress, there's no better option than the FX219 Swim Spa from the Synergy line by PDC Spas. No matter your fitness level, the adjustable, high-powered jets will help you find the right resistance for an effective workout. And, what's more is that this hot tub swim spa is equipped with its own five-seat hot tub, which is perfect for relaxing after your workout or entertaining friends and family.
When you purchase this amazing endless swimming spa with Golden West Outdoor Living, there will be no reason to go through the stress and anxiety of finding someone to install it for you. Let us provide you with the services you need, from delivery to installation and beyond. Stop by our showroom in Edmonton or contact us today to get started!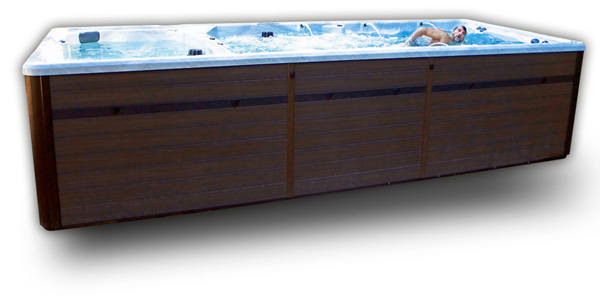 ---
Dimensions:
227" x 92" x 56", 100" fitness area
Design Features:
Fitness zone features side entry steps with full body recliner and sculpted massage seat, open barrier-free fitness area, two RX6™ standing massage columns. Hot tub zone is a full featured 5 deep seat spa. Separate zones with filtration, heating, therapy and fitness action controls.
Therapy Jets:
64 hydrotherapy stainless Reflections Jets™ . Full body massage columns. Shoulder, upper and lower back, hips, calves and feet in 7 seats.
Synergy Pro™ Jets:
6 high-powered adjustable fitness jets
Dual Zone Power:
Fitness Zone: 16HP, 3 pumps, 5.5KW heater, 50 amps
Hot Tub Zone:
6HP, 2 pumps, 5.5KW heater, 50 amps
Capacity:
2425 gallons
Weight (lbs.):
2475 dry/21875 wet
Finish:
Silver Marble acrylic shell, Graphite or Espresso M Series™ cabinet
Warranty:
35 structure/15 finish/5 parts/3 labor