FX19
The FX19 Swim Spa is perfect for people of all fitness levels.
Find unlimited fitness potential with the many standard features that come equipped with this incredible swim spa.
No matter your fitness goals, this endless spa pool provides everything you need to reach them.
You'll love relaxing at the end of your workout with a full hydrotherapy massage.
Regardless of whether you're an athlete training for an upcoming event or you're new to working out and leading a healthy lifestyle, the FX19 Swim Spa is a great option for meeting any fitness goal. Because this swimming spa comes with six adjustable fitness jets, you can customize the resistance of your workout for your own abilities and goals. What's even better are the 46 hydrotherapy jets that can help to ease sore muscles for a speedier, less painful recovery.
There are so many reasons to take advantage of a swim spa in your home, and when you order yours with Golden West Outdoor Living, you'll have all of the help you need throughout every step of the process. We offer both delivery and installation, and we can even teach you how to properly maintain your new swim spa. Stop by our showroom or contact us today for more information.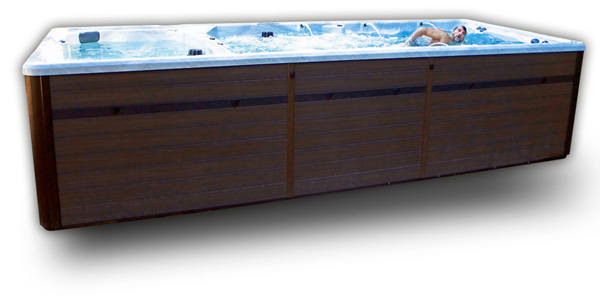 ---
Dimensions:
204" x 92" x 56", 160" fitness area
Design Features:
Fitness zone features side entry steps with full body recliner and sculpted massage seat, open barrier-free fitness area, two RX6™ standing massage columns.
Therapy Jets:
36 hydrotherapy stainless Reflections Jets™ . Full body massage columns, reclining and sculpted seats with shoulder, upper and lower back, hips, calves and feet jetting.
Synergy Pro™ Jets:
6 high-powered adjustable fitness jets
Swim Spa Power:
16HP, 3 pumps, 5.5KW heater, 50 amps
Capacity:
2700 gallons
Weight (lbs.):
1900 dry/23590 wet
Finish:
Silver Marble acrylic shell, Graphite or Espresso M Series™ cabinet
Warranty:
35 structure/15 finish/5 parts/3 labor