FX15s
With the FX15s Swim Spa, you'll enjoy home fitness and relaxation in one awesome machine.
This swim spa is ideal for anywhere you need to save space, like patios, sunrooms or garages.
Equipped with underwater LED Lighting, you can get in shape day or night with this swim spa.
After you've finished working out, relax and ease your sore muscles with 20 Reflections™ jets.
Swimming is such a powerful way to get in shape, but most people don't have room for a pool on their property, and the idea of swimming in a public pool is not always enticing. But, the FX15s swim spa makes it possible to capitalize on the many benefits of swimming in your own home. This endless pool spa is compact enough to work in almost any space, from patios and backyards to sunrooms and garages. Even better, once your workout is done, you can sit and enjoy the full hydrotherapy benefits of 20 strategically placed Reflections™ jets.
Don't go through the stress and anxiety of having to find the right contractor to install your new swim spa. Instead, let the professionals at Golden West Outdoor Living provide you with the delivery and installation you need. Learn more when you contact us or stop by our showroom in Edmonton.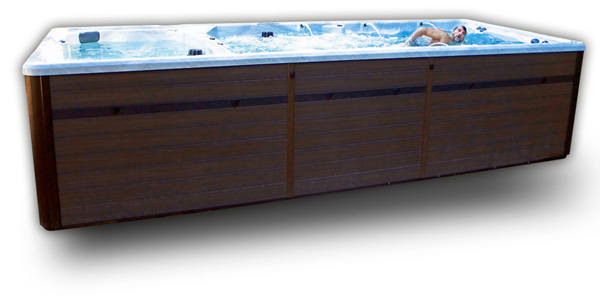 ---
Dimensions:
180" x 92" x 56", 130" fitness area
Design Features:
Wide entry steps positioned to maximize fitness area. Sculpted massage seat, open barrier-free fitness area, two RX6™ standing massage columns.
Therapy Jets:
20 hydrotherapy stainless Reflections Jets™ . Full body massage columns, sculpted seat with shoulder, upper and lower back jetting.
Synergy Pro™ Jets:
6 high-powered adjustable fitness jets
Swim Spa Power:
14HP, 3 pumps, 5.5KW heater, 50 amps
Capacity:
2240 gallons
Weight (lbs.):
1645 dry/19565 wet
Finish:
Silver Marble acrylic shell, Graphite or Espresso M Series™ cabinet
Warranty:
35 structure/15 finish/5 parts/3 labor