FX15
The FX15 Swim Spa is ideal for people who are fitness-minded and space-conscious.
Push yourself and crank up the resistance with six Synergy Pro™ jets.
Once your workout is complete, relax and enjoy 36 Reflections™ jets.
Enjoy the beauty and luxury of this beautiful swim spa, and choose from three different finishes.
It's not always easy to get a gym-quality workout at home, but with the FX15 Swim Spa, you'll have everything you need to take your home workout to the next level. Crank up the resistance and push past your physical limitations with six high-powered, Synergy Pro™ jets. And, when you're ready to relax, this swim spa won't let you down, because it comes with 36 hydrotherapy Reflections™ jets, which are placed in the perfect locations to target your most troubling areas, like upper and lower back, shoulders, hips, feet and calves.
You don't have to join a gym to get a great workout; with the FX15 Swim Spa, you'll have everything you need to reach your fitness goals from the comfort of your own home. And, when you purchase this one-of-a-kind, endless spa pool with us, you won't have to hire a contractor for the installation process. We'll handle delivery, installation and more. Contact us or stop by our showroom in Edmonton today!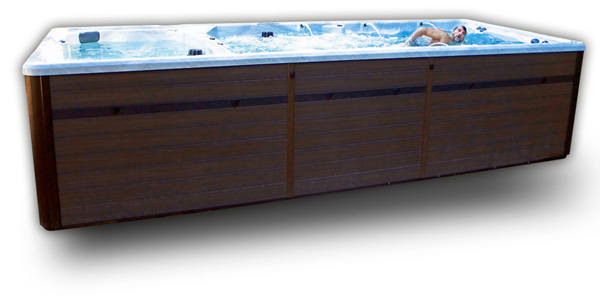 ---
Dimensions:
180" x 92" x 56", 112" fitness area
Design Features:
Fitness zone features side entry steps with full body recliner and sculpted massage seat, open barrier-free fitness area, two RX6™ standing massage columns.
Therapy Jets:
36 hydrotherapy stainless Reflections Jets™ . Full body massage columns, reclining and sculpted seats with shoulder, upper and lower back, hips, calves and feet jetting.
Synergy Pro™ Jets:
6 high-powered adjustable fitness jets
Swim Spa Power:
16HP, 3 pumps, 5.5KW heater, 50 amps
Capacity:
2140 gallons
Weight (lbs.):
1645 dry/18765 wet
Finish:
Silver Marble acrylic shell, Graphite or Espresso M Series™ cabinet
Warranty:
35 structure/15 finish/5 parts/3 labor