Luxury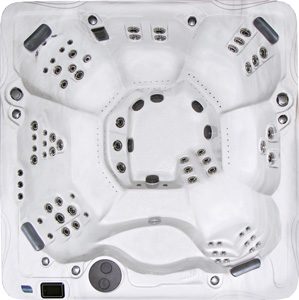 7 seats | 143 jets
Seven seats for you and your friends to hang out and learn the art of relaxation, each designed with contours to cradle your every curve

5 seats | 96 jets
In the Biscayne you will feel worlds away in the comfort of your own backyard.
6 seats | 115 jets
Turn on the sound system and turn up the bubbles. That's 115 spa jets soothing tense muscles and freeing the spirit for laughs and fun conversation.
5 seats | 97 jets
Designed to cradle all figures comfortably, the uniquely sloped lounge and four body hugging seats let you unwind in style.
6 seats | 117 jets
Lie back and relax, let the warm water surround your tense body, clear your mind and enjoy the solitude.
Nothing says leisure like a luxury hot tub from Golden West Outdoor Living.
In this day and age, relaxation isn't always easy to come by. Most of us lead such busy lives that we eat most of our meals in the car or over the sink, and we have to schedule time to spend with friends and family in order to fit it in. With so much going on in your life, the ability to unwind and relax is crucial to your physical and mental health. And, here at Golden West Outdoor Living, we believe that our Luxury Series hot tubs are the ideal option when you're looking for the ultimate in relaxation and leisure.
What to expect with the Leisure Series.
At Golden West Outdoor Living, we're proud to say that we offer the Luxury Series of spas from PDC. In this line, you'll find a variety of all of the best options. So, no matter what you're looking for in a hot tub, you can rest assured that we have you covered. This line features all of the best hot tubs from PDC, from the space-saving Malibu hot tub, which seats four comfortably and stylishly, to the Bali hot tub, which is chock-full of incredible features you'll love.
From delivery to installation, Golden West Outdoor Living does it all.
There are so many amazing models to choose from in the Luxury Series, but no matter which one you choose, rely on the experts at Golden West Outdoor Living to provide you with the service you need. Unlike most of our competitors, we don't just sell and deliver hot tubs. We can also install your new hot tub and provide you with the services you need to keep enjoying it for years. Experience the difference with Golden West Outdoor Living. We proudly serve Edmonton, St. Albert, Sherwood Park and the surrounding areas. Contact us today to get started.