Summit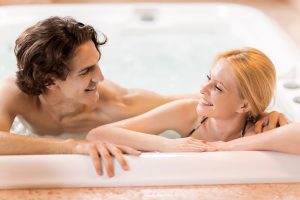 Socialize, relax and revitalize with the Summit Hot Tub.
Designed for people looking for spacious seating without an outrageous footprint, this hot tub is truly one of a kind.
With seven seats, including a large corner seat and six contoured bucket seats, there are plenty of places to sit and relax in this hot tub.
This spa is perfect for hydrotherapy due to its 42 stainless steel Reflections™ jets.
Whether you're looking for a place to entertain guests or somewhere you can relax and revitalize yourself after a long day, the Summit Hot Tub can't be beat. It has 42 stainless steel hydrotherapy jets, as well as seven ultra-comfortable seats. Because this spa is a part of the Lifestyle Series from PDC Spas, you'll enjoy a long list of standard features that make this hot tub such a great choice, including TemperLok™ Insulation, MotionGlow™ Lighting, and Pristine™ Filtration.
Don't put yourself through the stress of finding a contractor to install your new hot tub. Instead, let Golden West Outdoor Living provide you with the services you need, from delivery to installation and beyond. Would you like to learn more about this one-of-a-kind hot tub? Contact us or stop by our showroom in Edmonton.
---
Dimensions:
82″ (6'10") square x 39″ (3'3″)
Hot Tub Seating:
7 seats; 6 contoured buckets, wide corner seat
Capacity:
425 gallons
Weight wet:
4,045 lbs.
Hot Tub Jets:
42 Stainless steel Reflections jets™
Hot Tub Power:
6 HP Dual Speed Pump
Spa Warranty:
10 year structural warranty, 10-year finish warranty, 2 year parts warranty, 1 year labor warranty
Hot Tub Color:
3 Acrylic colours
Cabinet Finish:
PermaWood™ cabinet