Doors And Drawers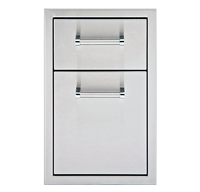 Looking for high-quality doors and drawers for your outdoor kitchen? If so, you've come to the right place. We are Golden West Outdoor Living, and we have all of the equipment you need to maximize your outdoor space, including outdoor kitchen equipment from Delta Heat. Every kitchen — regardless of whether it's an indoor kitchen or and outdoor kitchen — needs the right storage solutions. And, with the outdoor kitchen doors and drawers from Delta Heat, you'll enjoy the storage you need with modern elegance and style.
When it comes to storage for your outdoor kitchen, there is no shortage of options from Delta Heat. With access doors, storage drawers, trash drawers, drawer combos and more, you'll have a wide variety of choices at your disposal. And, since Delta Heat is known for high-quality products, you can rest assured that, no matter which options you choose, you're purchasing a product that you can rely on for years to come.
When you purchase doors, drawers and other equipment for your outdoor kitchen with Golden West Outdoor Living, there's no need to go through the hard work of finding the right contractor to turn your dreams for your outdoor space into reality. Golden West Outdoor Living does it all. Contact us or stop by our showroom in Edmonton today!